---
LUMBERJACK TRAIL
This designated mountain bike trail (Wisconsin State Trail Pass required) serves as an ungroomed cross-country ski and snowshoe trail during the winter. It includes several wilderness trails of grass and dirt gently winding through different timber types and along the edge of the Manitowish River, Fishtrap Lake and White Sand Lake. Leashed pets are allowed only when there is no snow. The trail connects to the Escanaba-Pallette Lake Trails.
LENGTH:Loops of 4.6 and 12.5 miles
LOCATION:From Boulder Junction, continue south on Old Hwy K approximately 1 mile to Concora Road and a parking area.
ACTIVITIES:
Mountian Biking
Fat Biking
Hiking
Snowshoeing
Cross-Country Skiing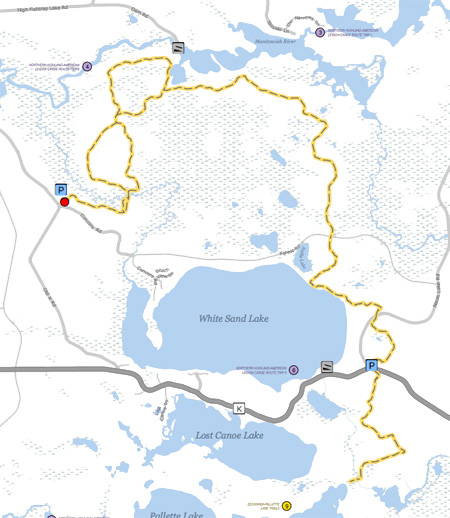 ---
WINMAN TRAILS
Located on more than 1,300 acres of private and public lands, this network of silent-sports trails offers opportunities for mountain biking, hiking, snowshoeing and classic- and skate-style cross-country skiing. In winter, these trails intersect with snowmobile trails.
LENGTH:Trails vary by activity from 4.0 to 10 miles
LOCATION:4 miles north of the Manitowish Waters on Hwy W. Trailhead and parking at the intersection of Hwy W and Hwy J (by the snowmobile trail)
ACTIVITIES:
Mountain Biking
Fat Biking
Cross-Country Skiing
Snowshoeing
Hiking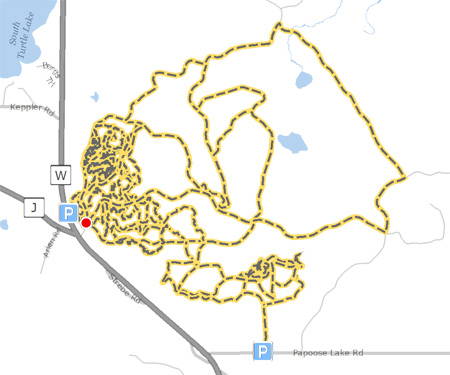 ---
ESCANABA-PALLETTE LAKE TRAILS
This hilly, rolling and very scenic trail winds around several lakes and through a variety of timber types and has a shelter and fire ring provided. Escanaba Lake can also be fished. Be sure to check all fish you take out with the Escanaba Contact Station. This intermediate level cross-country ski trail is tracked and a Wisconsin State Trail Pass is required. This trail connects to the Lumberjack Trail. *Pets are not allowed when there is snow.
LENGTH:Loops of 2, 4, 5.5 and 8.5 miles
LOCATION:From Boulder Junction, continue south on County Hwy M approximately 7 miles to Nebish Lake Road. Turn east on Nebish Lake Road and continue about 3.5 miles to the parking area on the north side of the road.
ACTIVITIES:
Hiking
Cross-Country Skiing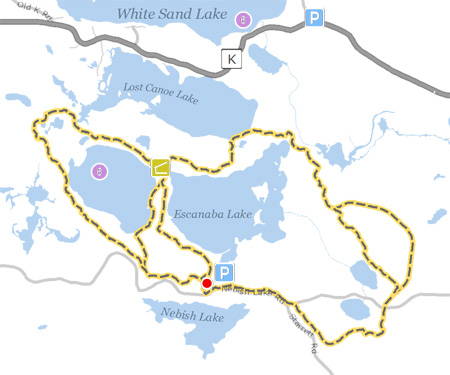 ---
BOULDER JUNCTION WINTER PARK
This trail offers fun for the entire family. Bring your cross-country skis, snowshoes, ice skates, sleds and boots and enjoy outdoor winter fun. The cross-country skiing, snowshoeing and walking trail is cleared and groomed and suitable for beginners, enthusiasts and families. There is also a sledding hill, a regulation-size ice skating rink equipped with lights, a warming hut with lighting and electricity, group seating and a bonfire area to warm your toes.
LENGTH:.9 miles
LOCATION:From downtown Boulder Junction, turn right on Old Hwy K (at Coontail Corner) and go about .25 miles. Winter Park will be on the right.
ACTIVITIES:
Cross-Country Skiing
Snowshoeing
Hiking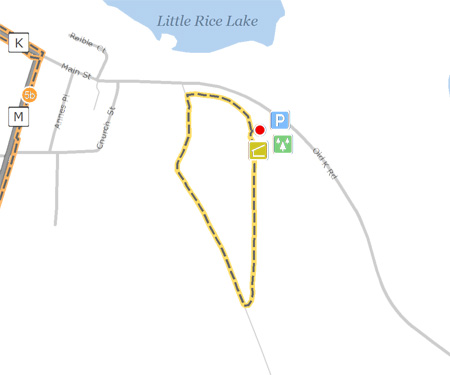 ---
NORTH LAKELAND SCHOOL NATURE & CROSS-COUNTRY SKI TRAIL SYSTEM
These trails are located on the grounds of North Lakeland School and wind through a variety of towering evergreens and hardwoods. Overall easy level of difficulty with a few dips and small slopes. During the winter, the trails are groomed, as volunteers are available, by the North Lakeland/Northwoods Ski Touring Association.
LENGTH:8-10 miles of looping trails
LOCATION:Trailhead may be accessed from the north side of the school's football field. From the intersection of County Hwy K and Papoose Lake Road (west of the school), continue north on Papoose Lake Road approximately 1 mile to a parking area.
ACTIVITIES:
Cross-Country Skiing
Hiking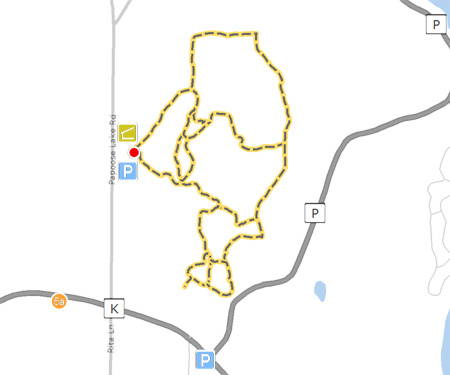 ---
RAZORBACK RIDGES TRAILS
Scenic trails featuring a variety of trail loops for mountain biking and differing terrains for beginner to expert cross-country skiers. The system is maintained by the Sayner/Star Lake Lions Club. *Pets are not allowed when there is snow.
LENGTH:12 miles
LOCATION:From the intersection of Hwy 155 and County Hwy N in Sayner, continue west on County Hwy N about 2 miles to Razorback Road. Turn north on Razorback Road and a parking area.
ACTIVITIES:
Cross-Country Skiing
Mountain Biking